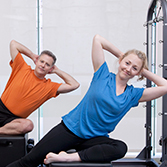 Fitness & Recreation
Join us and become part of our community at UC San Francisco Mission Bay and Parnassus campuses.

We're more than a gym—we're a fitness lifestyle. Cardio, weights, and group fitness classes are here. Plus, we have swimming pools, leagues, massage, a climbing wall, Pilates, personal training, and more. Membership is open to all!
Massage Special—May and June
Get 10% off single 75-minute therapeutic massages.
Book your massage now and save!
Membership Options
Everyone is welcome to become a member of the Fitness & Recreation Centers at UCSF. Stop by Member Services for a tour and our staff will be glad to answer all of your questions. Our Premier membership provides the ultimate in fitness variety and convenience. All members receive a 10% discount at Sports Basement on all purchases, everyday! Just show your Fitness & Recreation membership card at check-out.
Want to Know More about Joining? We're here to answer your questions and assist you.
Call us or send us a request for more info.
Photos
Membership Fees
Membership FAQ and Policies
Directions
Contact Member Services
Standard Membership
• Cardio and strength machines
• Free weights
• Swimming pool(s)
• Sauna
• Squash and racquetball courts
• Basketball court
• Locker rooms
• Workout towel service
• Welcome Workouts: One Personal Training and one Pilates session
• Discounted parking: early morning, evening, and weekends
• New and free activities scheduled exclusively for members
• Member discounts on Pilates, Aquatics, Outdoor Programs, Recreational Sports, Youth Programs
• 10% discount at Sports Basement on all purchases with your Fitness & Recreation membership card.
• Choose one location: Parnassus or Mission Bay
Premier Membership
• Includes all Standard membership benefits
• Over 170 Group Fitness classes weekly
• Exclusive online reservation access for Group Fitness classes
• Three hours free validated parking daily (Mission Bay only)
• Shower/pool towel service
• Priority program registration
• Access to Parnassus and Mission Bay locations
Off-Peak Standard Membership
• Enter the facility during these times:
M-F 8:00-11:00 am, 1:00-3:00 pm, 8:00-10:00 pm
Sa-Su 1:00-8:00 pm
• Includes all Standard membership benefits
Mission Center Building Mini Fitness Center Membership
•Available to UCSF employees
•Cardio machines
•Free weights
•Member discounts on Pilates, Aquatics, Outdoor Programs, Recreational Sports, Youth Programs
•Single location
Mt. Zion Mini Fitness Center Membership
•Available to UCSF employees
•Cardio machines
•Free weights
•Member discounts on Pilates, Aquatics, Outdoor Programs, Recreational Sports, Youth Programs
•Single location
Temporary Membership
• 30 consecutive days of membership
• Available for a maximum of 90 days per calendar year
• Standard or Premier options available
Bike To Work Shower Pass
• Available to UCSF employees with current UCSF bike permit (contact UCSF Transportation for permit details)
• Allows 30-minute access daily for locker room and shower use only
• Monday – Friday 5:30 am to 10:00 pm & Saturday-Sunday, 7:30 am – 8:00 pm
• Towel service included
• Single location
• Overnight locker rentals available for a small fee
Guest Fees
• 10-Visit Pass $149
Good for use at Mission Bay & Parnassus. Valid for 90 days from date of purchase. Includes use of all areas, towel service, and Group Fitness classes. Class reservations accepted by phone and in-person starting at 7:00 pm for next day classes.
• Adult $20
Includes use of all areas, towel service and Group Fitness class on space available basis.
• Child (ages 3-17) $10
Includes pool, basketball court, squash, racquetball, game room, towel service and locker rooms. Ages 3-14 must be accompanied by adult at all times. Ages 15+ may also use fitness equipment, sauna, and Group Fitness class on space available basis.
• Child (ages 0-2) Free
Quick Links
News
UCSF Sports Basement Shopping Spree 6/11
Save the date! UCSF Exclusive—Sports Basement…
Read more >>
Summer Student Memberships Are Back 5/1-6/30
Get fit, feel great. • No enrollment fee • Must…
Read more >>
Tsu.ya by Kristi Yamaguchi—Pop-up Store 6/2
Meet Kristi in person Bakar Fitness & Recreation…
Read more >>