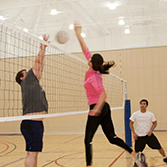 Fitness & Recreation
Join us and become part of our community at UC San Francisco Mission Bay and Parnassus campuses.

We're more than a gym—we're a fitness lifestyle. Cardio, weights, and group x classes are here. Plus, we have swimming pools, leagues, massage, a climbing wall, Pilates, personal training, and more. Membership is open to all!
Become a Member
The latest cardio and weight machines, group fitness classes, personal training, outdoor and youth programs, recreational sports, indoor and outdoor swimming pools, a climbing wall, massage and more…as a member of the Fitness & Recreation Centers at UCSF, you can have it all. With several membership options, preferred rates for UCSF employees, two convenient locations, and a huge variety of classes and programs, what are you waiting for? Join now!
Click on the below links to find the right membership type for you.
UCSF Affiliates
• UCSF Staff
• UCSF Faculty
• UCSF Resident & Clinical Fellow
• UCSF Post Doctoral Scholar
• UCSF Graduate Division
• UCSF Student
• UCSF Affiliated Student
• Visiting Student
• UCSF Alumni Association Member
• UCSF Retirees
UC Affiliates
• UC Staff
• UC Faculty
• UC Student
• UC Hastings Student
• UC Alumni Association Member
Community
• General Public
• Senior 60+
• Adult and Child Add-on
• Guest and Single-Day Passes
• Business Affiliates and Property Associations
• Military and Disabled Persons
Other Options
• Mission Center Building Mini Fitness Center
• Mt. Zion Mini Fitness Center
• Bike to Work Shower Pass
• Temporary Membership
Want to Know More about Joining?
We're here to answer your questions and assist you.
Call us or send us a request for more info.
Parnassus: .(JavaScript must be enabled to view this email address) | 415.476.0348
Mission Bay: .(JavaScript must be enabled to view this email address) | 415.476.5646
Quick Links
News
Parnassus—Free TRX Clinics in May
Parnassus, Studio 4, lower level next to the weight…
Read more >>
Spinning on the Roof 5/21
Transform your ride. Spinning® on the Roof May 21,…
Read more >>
Roger Underhill is UCSF's Volleyball Ambassador
Roger Underhill may be one of the most recognizable…
Read more >>
Facility Updates
Parnassus—Towel Update
The washing machine at Millberry Fitness & Recreation…
Read more >>