Group X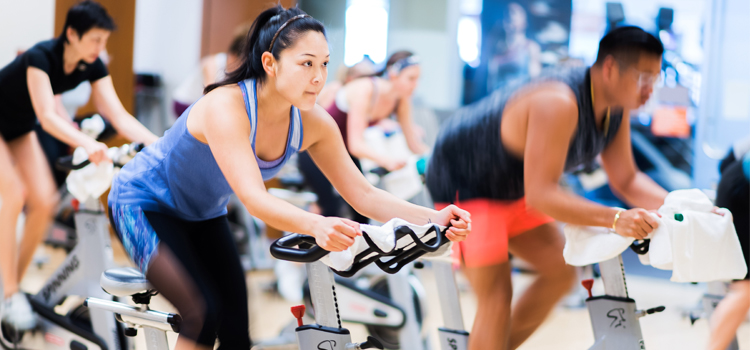 ---
Get 50% off enrollment OR Zero Enrollment with a friend. Save up to $300. More info >>
---
With over 170 classes from beginner to advanced, you're bound to find a class or two that's perfect for you. Whether it's GRIT®, Spinning®, BODYCOMBAT®, ZUMBA®, BODYPUMP®, or yoga…the answer is "yes, we have that class!"
Our certified instructors will assist you in enhancing your current skill level in a specific discipline or provide you with recommendations to try something new.
Our Group X class selection is all about variety and getting you excited about working out. What class do you want to take today?
In This Section
Cardio Classes
Cardio/Strength Classes
Dance Classes
Les Mills GRIT® Classes
Martial Arts Classes
Mind/Body Classes
Strength Classes
Water Exercise Classes
Yoga Classes
Suitable for Beginners, Older Adults, Returning Exercisers, and Post-rehabilitation
Sign up for Classes
Group X Online Reservations (Premier members only)
Class Schedules
Mission Bay Group X Schedule
Parnassus Group X Schedule
About Group X
FAQ & Policies
Contact the Group X Team
Group X Careers at UCSF
Participating in Classes
Premier Members
Access to unlimited Group X classes included with membership.
10-Visit Pass
Non-members can try Group X classes by purchasing a 10-Visit Pass at the Service Desk.
Includes full access to the Fitness Center; pools, towels and sauna, locker rooms, exercise equipment, drop-in sports, and ping pong and billiards
Honored at Parnassus and Mission Bay
Valid for 90 days from date of purchase
$175
Single Visit Pass
Available for $22 or $15 if hosted by a member. Pass can be used to reserve same-day Group X classes on a space-available basis. Purchase in-person at the Service Desk.
Class Reservations
Reserve by phone or in-person.
Premier members can reserve online. (First time visitors, enter club code: UCSF)
Parnassus: 415.476.1115
Mission Bay: 415.514.4545
Reservations begin at 7:00 pm daily for next day classes.
Class Check-In and Studio Arrival
Pick up a class-entry card at the Service Desk prior to start of class. Entry cards are available prior to and up to 5 minutes after class start time. Arrive within 10 minutes of start time to ensure a safe workout.
Cancellations
If you cannot attend a class, please cancel your reservation by phone, in person, or Premier members can cancel online.