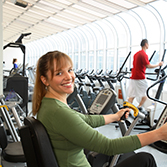 Fitness & Recreation
Join us and become part of our community at UC San Francisco Mission Bay and Parnassus campuses.

We're more than a gym—we're a fitness lifestyle. Cardio, weights, and group fitness classes are here. Plus, we have swimming pools, leagues, massage, a climbing wall, Pilates, personal training, and more. Membership is open to all!
Join us! Pilates Open House
April 1—Parnassus
April 8—Mission Bay
See News article for more information.
Here you can explore the options and benefits of joining our fitness community.

Read more >