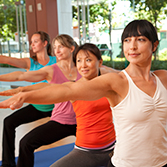 Fitness & Recreation
Join us and become part of our community at UC San Francisco Mission Bay and Parnassus campuses.

We're more than a gym—we're a fitness lifestyle. Cardio, weights, and group fitness classes are here. Plus, we have swimming pools, leagues, massage, a climbing wall, Pilates, personal training, and more. Membership is open to all!
UCSF Exclusive—Sports Basement Shopping Spree
Thursday, June 11, 2015
5:00-9:00 pm
Potrero Hill store, 1590 Bryant Street
For details, click on NEWS article to right.
Here you can explore the options and benefits of joining our fitness community.

Read more >