New UV Pool Filter Keeps Swimmers Happy at Bakar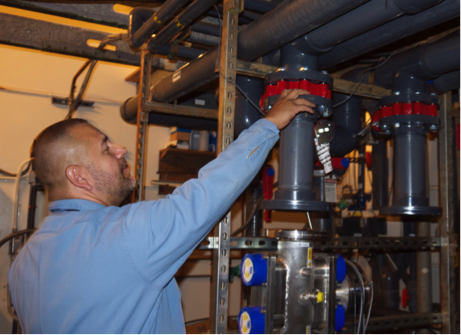 This spring, Fitness & Recreation worked with UCSF Facilities Services and contractors to install a new UV filter for the Bakar Fitness Center indoor pool. The UV filter utilizes a cutting-edge, non-chemical process that uses UV light rays to sanitize the pool. "It was a big project that involved plumbing, electrical, IT cabling, and logistics," said Greg Whisman, operations manager for Fitness & Recreation.
According to James Place, assistant chief engineer, "Swimmers will notice a reduced smell of chlorine. We won't need as much because the UV system will keep the pool clean." Additionally, the system can be remotely monitored through a smartphone app, allowing staff to provide constant oversight.