The Healthy Mothers Workplace Coalition of San Francisco Honors UCSF Lactation Accommodation Program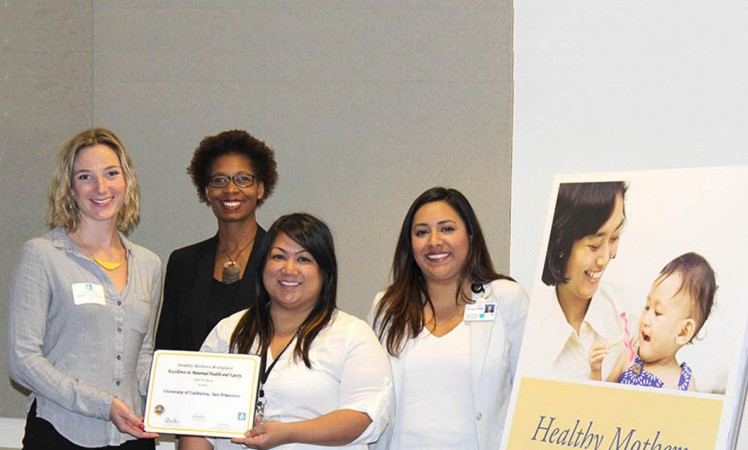 The San Francisco Healthy Mothers Workplace Coalition recently honored the UC San Francisco Lactation Accommodation Program with the 2016 Healthy Mothers Workplace Award. Photographed from left to right are Caroline Wick, Lactation Program Coordinator at UCSF and representatives from UCSF Women's Health including Verndean Tortorelli, Joanne De Leon and Irene Flores.
The university's lactation program has been operating under Campus Life Services Family Services for the past 16 months. It supports nursing mothers who continue to breastfeed after returning to work or school by providing a network of over 40 lactation rooms on nine campuses and web-based information.
"The Healthy Mothers Workplace Award recognizes the ongoing efforts of a multidisciplinary team dedicated to supporting working mothers at UCSF," said Nerissa Ko, MD, Professor of Neurology at UCSF and Faculty Co-Chair of the Committee on the Status of Women. "By raising the standard of lactation facilities on all of our campuses, we can better support our nursing mothers in their workplace. Ongoing support of family-friendly policies at UCSF will continue to benefit all members of our community."
Caroline Wick, Lactation Program Coordinator at UCSF, said the program has achieved much progress in the last year and a half.
Prior to being administered by Campus Life Services, the lactation rooms were voluntarily supported by a network of people across campus, primarily the UCSF Women's Health Resource Center, Wick said.
"What Women's Health, with the Committee on the Status of Women, accomplished over the past decade in providing support to nursing mothers here at UCSF is remarkable. Their advice will continue to be invaluable as we improve and grow the program," said Suzie Kirrane, Family Services Manager.
"We now provide a network of over 40 clean and comfortable lactation rooms along with access to information on supplies, more hospital-grade breast pumps, improved room identification signage and in-room information," Wick said.
Wick said she's also worked closely with Facilities Services to develop a standard for cleaning lactation rooms that is now included in the Facilities Services Guide to Services and she's seeing the results.
This is the third year UCSF has received the Healthy Mothers Workplace Award. In 2014, the program received the Bronze Standard while this year and 2015 it received the Silver Standard.
"We're so proud to have hit that silver level," Wick said. "We've improved so much in the last year. I'm proud that we're able to make the lactation rooms more comfortable and welcoming for our working mothers."
Nancy Milliken, MD, Director of the UCSF National Center of Excellence in Women's Health said she's encouraged that businesses are recognizing the resources working mothers need to return to work.
"In witnessing the year-after-year growth in the number of organizations vying for and receiving these awards, we are encouraged that organizations and businesses are increasingly recognizing the importance of 'Healthy Mothers Workplaces' not only for the health of women and their children but also for the health and success of their enterprises."
Wick said lactation room users at UCSF were recently surveyed and the program will use the results to make further improvements. "Plans are underway for more program outreach and a mobile app to help mothers locate rooms. And, we would like to provide a simple registration system so that we can welcome program participants and keep them informed about future improvements, information and other support."
One anonymous user recently provided email feedback.
"I have been accessing the rooms for just over a year now and attribute much of my success with breastfeeding to the facilities provided by UC and your program. I can't emphasize enough how helpful it is that provide hospital-grade pumps, a service most companies do not have."
Kirrane said UCSF is elevating the standard for how great employers provide services to working mothers. "UCSF is a leader in creating accommodations for nursing mothers and these awards reflect the commitment we have to our employees and students."
For more information, visit the Lactation Accommodation Program.