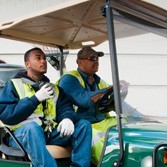 Facilities
Facilities Services is here to create an exceptional physical environment at UC San Francisco. We help to support research, teaching, health care, and the UC San Francisco community service mission by tending to the varied operational and maintenance needs of UC San Francisco's including buildings, grounds, energy, and other facilities.
Spotlight
Now you can find all of your facility needs here on the Campus Life Services website. Check out all the services we offer and let us know how we can help you.
Landscaping & Pest Control
You need your space to be clean, safe, and comfortable from the inside out. We've got you covered with our landscaping and pest control services.
Landscaping
Ensuring that the exterior of all campuses are clean, safe, and attractive is our job. To meet the needs of the UCSF campuses, Facilities Services maintains the following:
• Outdoors plants
• Shrubbery
• Trees
• Hardscape
• All landscaped areas on all campuses
Need help now? Send a service request by e-mail, to: .(JavaScript must be enabled to view this email address)
or call 415.476.2021.

Outdoor Debris Removal
To keep outdoor areas tidy and ensure pedestrian safety, Facilities Services provides cleaning and removal of debris from:
• Pedestrian path of travel
• Sidewalks
• Entrances
• Doorways and other areas to ensure pedestrian safety
Need help now? Send a service request by e-mail, to: .(JavaScript must be enabled to view this email address)
or call 415.476.2021.

Pest Control
Issues from pests can be a threat to everyone's well being and functioning at UCSF. To ensure your safety and comfort, our pest control services include the following:
• Rodent control
• Crawling insect control
• Flying insect control
• Migratory pest control
• Bird control
• Mite control
• Other specialized pest management applications.

Need help now? Send a service request by e-mail, to: .(JavaScript must be enabled to view this email address)
or call 415.476.2021.
Quick Links
News
A change we can all appreciate
As of November 1, 2012, Facilities Services (formerly…
Read more >>