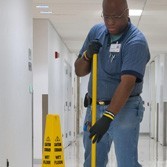 Facilities
Facilities Services is here to create an exceptional physical environment at UC San Francisco. We help to support research, teaching, health care, and the UC San Francisco community service mission by tending to the varied operational and maintenance needs of UC San Francisco's including buildings, grounds, energy, and other facilities.
Spotlight
Now you can find all of your facility needs here on the Campus Life Services website. Check out all the services we offer and let us know how we can help you.
Custodial & Events

Cleanliness and safety are important for everyone at UCSF. From routine cleaning, to heavy-duty cleaning to helping you set up and break down your next event, Facilities Services has got you covered.
Basic and Deep Cleaning
For all of your needs on an ongoing and as-needed basis, we're here to provide the following basic cleaning services for: Classrooms, conference rooms, halls and lobbies, labs, restrooms, and main lobby stairwells.

Daily services of these areas include:
• Emptying of trash and recycling bins (as needed)
• Dust mopping of tiled floors
• Vacuuming of carpets
• Minor stain removal
• Tabletop dusting
• Cleaning of blackboards and whiteboards, and refilling of supplies such as chalk and erasers.
• Refilling of restroom dispensers
• Restroom floors and surfaces are cleaned and disinfected
• Stairwells and main lobby stairs are dust-mopped

Weekly services include:
• Basic cleaning of offices
• Cleaning of door frames and light switches
• Cleaning of stairwells, handrails, and other level surfaces

Monthly services in classroom, conference rooms, halls and lobbies, stairwells include cleaning of:
• Window sills
• Baseboards
• Fixtures

Yearly services in classrooms and conference rooms include:
• Thorough washing of chalkboards and whiteboards
For deep-cleaning and special requests, we are happy to service non-public areas. Customer-requested carpet shampooing, floor stripping, and waxing in non-public areas can be provided on a recharge basis.
Submit a work order request: https://www.cpfm.ucsf.edu/fmtrack2/login.cfm?LSrc=main

____________________________________________________________________________________

Event Setup & Break Down
Having a special event? We provide setup and/or cleanup services. Customers are encouraged to submit their request one week in advance and services are provided on rechargeable basis.

Short notice request for setup will incur an extra charge. Setups can include:
• Provision of banquet tables, chairs, easels, extra recycling and refuse bins
• Cleaning services before, during, or after the event.
Need help with your event?
Submit a work order: https://www.cpfm.ucsf.edu/fmtrack2/login.cfm?LSrc=main
**Please include in description field:
• Date of event
• Set-up time
• Break-down time
• Number of applicable items: tables, chairs, bins (trash, recycling, compost), easels

If a specific configuration is required, please call 415.476.2021 to submit layout attachment.

____________________________________________________________________________________

Boxes and Bio-hazardous Material
Basic custodial services include breaking down of up to four small boxes. For pick-up of five (5) or more boxes of any size, the customer is responsible for breaking down the boxes before the custodial staff can retrieve them. Boxes should be left in the corridor outside the area. For safety reasons, all broken glassware shall be appropriately packaged and labeled for safe pickup and disposal.

For pick-up of bio-hazardous materials, please contact:
Environmental Health and Safety at: 415.476-1300.

Need help now? Call 415.476.2021.
Quick Links
News
A change we can all appreciate
As of November 1, 2012, Facilities Services (formerly…
Read more >>