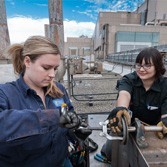 Facilities
Facilities Services is here to create an exceptional physical environment at UC San Francisco. We help to support research, teaching, health care, and the UC San Francisco community service mission by tending to the varied operational and maintenance needs of UC San Francisco's including buildings, grounds, energy, and other facilities.
Contact the Facilities Customer Service Center at 415.476.2021
for facilities-related inquiries and emergencies. Available 24/7.
As extensions of UCSF's mission and purpose, it's essential that all UCSF properties require the highest quality of service and care. We're here to service practically all of the needs of your UCSF facility. Our major areas of service include:
Carpentry
Our carpenters can install, repair and maintain just about everything in your office including flooring, stairs, doors, ceiling tiles and more.
Electrical
We can help you with circuit breakers, lighting, cords, intercoms, power installations, outlets, and just about anything that requires wiring and a plug.
HVAC (Heating, Ventilation, and Air Conditioning) and Refrigeration
Our technicians build chillers, air conditioning units, indoor heating labs, freezer systems, and can handle all of your heating and ventilation needs.
Maintenance
We'll keep your building operating efficiently through routing inspections, maintenance and proper upgrades.
Plumbing
Our team of plumbers can repair and maintain your restroom equipment, fix leaks and flooding, and install your sensitive laboratory systems.
Utilities
UCSF is a leader in the generation and use of efficient energy systems. We purchase electricity, natural gas, and water and we generate utility price forecasts and utility budget updates for campus.
Need building maintenance? Submit a work request.
Meet Marquita Bowe: Our Journeyman Painter!
Quick Links
Resources
Resources
Resource Links Classroom Support For classroom and…
Read more >>