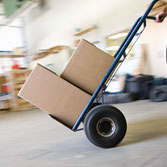 Distribution, Storage & Mail
Need to get it done? Distribution, Storage & Mail is your partner in productivity! Moving, delivering, installing, storing, shredding, surplus, mail solutions, recycling, and more–that's what we do for the UCSF community. Think you might have a job for us? Give us a call. Our experienced staff can do it.
In the Spotlight!
Starting March 1st campus customers should request Ethanol orders via BearBuy! Read more about it in the News & Specials section.