Reception Honors AIDS Walk Fundraisers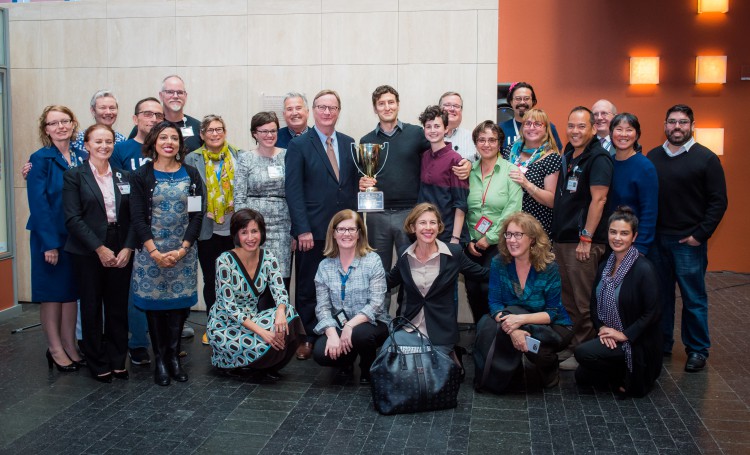 UC San Francisco Chancellor Sam Hawgood, MBBS, recognized the UCSF AIDS Walk Steering Committee and top fundraisers at a special ceremony Wednesday.
UCSF raised more than $170,000 and was the top fundraising team in AIDS Walk San Francisco. This year's walk was held on Sunday, July 17. The university had an estimated 430 walkers.
The 360 Positive Care & Women's HIV Clinic was honored at the ceremony as the top fundraising team for the university. The 23-member team raised $29,826. They narrowly edged out the UCSF Alliance Health Project team for the top spot. UCSF Alliance Health Project raised $29,100.
Malcolm John of the 360 Positive Care & Women's HIV Clinic was the top individual fundraiser, collecting $11,655.
Campus Life Services had the largest team at UCSF with 87 members. CLS raised $11,550. Jen Dowd, manager of Retail Services, is the longtime captain for the Campus Life Services team. She brings energy and enthusiasm that creates awareness, builds community and generates donations.
"This was a great year," said Jennifer Mannix, who co-leads the Steering Committee along with Lisa Cisneros of University Relations and Georgina Lopez of Global Health Sciences. "We had a remarkable turnout, we raised a lot of money for a good cause, and we had fun doing it."
AIDS Walk San Francisco is providing $100,000 to the new Golden Compass Program for HIV-positive patients who are age 50 and older. The program was launched by Ward 86 at Zuckerberg San Francisco General Hospital. Ward 86 began treating AIDS patients in 1983.