A New Custodial Software System is Improving Service at UCSF
---
Published on February 13, 2017
---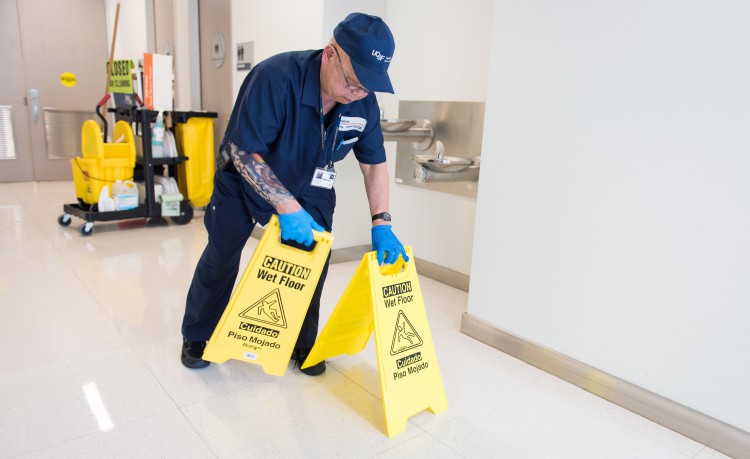 Facilities Services is piloting a new custodial software program that is improving service, standardizing workloads for custodians and engaging UC San Francisco customers in the cleaning of buildings.
"The Cleaning System" is a software solution that helps administer the cleaning of large buildings such as schools, health care facilities, and office complexes. It calculates the exact area of the spaces being cleaned and assigns tasks that reflect the Facilities Services Guide to Services level of cleaning, based on "time and motion/effort" analyses.
"Our goal is to become the best custodial services department in the UC System by creating a cleaning program focused on providing a clean, safe environment for the UCSF community conducive to healthy living and learning," said Jon Giacomi, executive director of Facilities Services.
The new system has been rolled out at the Mission Center Building, Sandler Neurosciences Center, Rock Hall, Cardiovascular Research Institute and Helen Diller Family Comprehensive Cancer Center. Plans are underway to expand the system to other East Campus buildings this fall with a rollut to West Campus buildings in 2017.
Floor plans are uploaded into the software system and each room is inventoried to determine how long it will take to clean. Custodians are given a work plan booklet with a detailed route and specific instructions for cleaning each room. Job cards provided to custodians include a seven-step cleaning process to create standard work.
"We test the route with custodians and then solicit feedback from customers," Giacomi said. "We update the route based on feedback from both the custodians and customers."
Using the new system at the Cardiovascular Research Institute, complaints about custodial services have dropped from daily to once a month. Staff at the Sandler Neurosciences Clinic stopped using a daily checklist to monitor the cleaning in patient rooms because they trust the new system.
"We've learned a number of lessons from implementing this system and the feedback from both custodians and customers has helped refine our process," Giacomi said. "We look forward to expanding the pilot project to all areas of campus."