UCSF Living Well is Making it Easy to Eat Healthy at Meetings
---
Published on March 24, 2017
---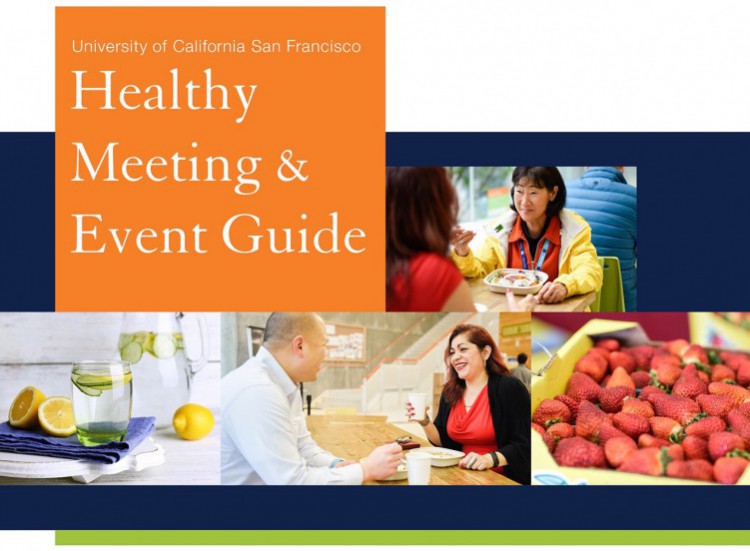 UC San Francisco's Living Well Department is making it easier to ditch the donuts and hail the hummus at meetings with a new UCSF Healthy Meeting & Event Guide.
"We've been hearing for a while that meeting attendees want nutritious food to be provided at meetings and that event organizers don't always know where and how to order healthy options," said Wellness Program Manager, Laura Ishkanian. "The guide is intended to make it easier for meeting planners to provide healthier options."
In 2016, more than 10,500 orders were place through America to Go, UCSF's catering program. Ishkanian said Living Well is working with campus caterers to discuss menu changes to provide healthier meals. "Staff tasked with ordering food for meetings have many other tasks and want to be as efficient as possible, so my goal is to make it fast and easy to find and order the healthiest catering choices."
Ishkanian said the guide is designed to help create an environment at UCSF where the healthy option is the default option. "Someone going to a day-long meeting generally doesn't have a choice as to what they eat that day – they typically just have to eat what's served. We want to make healthy choices available for all meeting and event attendees, and make it easier for the organizers of meetings and events to serve healthy options."
The guide has been adapted from the UC Berkeley Healthy Meeting and Event Guide, produced by the UC Berkeley's Be Well at Work Wellness Program. In addition, expert recommendations were followed from the American Heart Association, the National Alliance for Activity and Nutrition, the Culinary Institute of America's Menus of Change, and the 2015 Dietary Guidelines for Americans.
"Including healthy choices at meetings and events sends a larger message to attendees that the university cares about their health and may help participants improve their productivity, energy, and personal health," said Kim Guess, Registered Dietician, for UC Berkeley's Be Well at Work Wellness Program.
The guide has useful information for providing healthy meals, including:
• Top Ten Tips for Healthy Meetings
• The Healthy Meal Model
• Guidelines for Meals and Snacks
• Celebrations and Potlucks
• Active Meetings
• Sustainable Meetings and Events
"Hopefully the guide will provide fast and easy tips for meeting planners," says Ishkanian. The guide has information on small tweaks event planners can request, such as asking that sandwiches be cut into smaller portions, and that salad dressings and cheeses be served on the side. There's also information about how to order a healthy pizza, and about making healthier purchases at the grocery store for those who are planning a meeting on a budget.
"All of the sections of the guide are available in pdf format on our website for those who prefer a handout as an alternative to the longer guide," Ishkanian said.
For meeting organizers, the guide makes it easy to make it healthy.
"It is great to have this guide as a reference," said Dani Cambier, Project Manager in UCSF Campus Life Services. "You would think we would all remember to keep things healthy but the guide reminds us of the small details that can actually make the biggest difference! I have saved this guide and plan on using it for all of my meetings going forward."