UCSF is More than an Employer for Leeane Jensen
---
By Robert Hood on May 25, 2018
---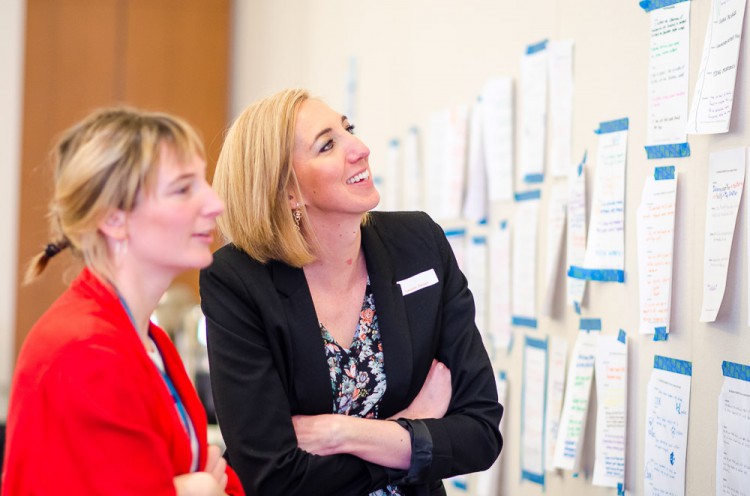 Marco Sanchez
When Leeane Jensen accepted the Chancellor Award for Exceptional University Service earlier this month at the Founders Day Awards Luncheon, it was another example of how UC San Francisco has played such a pivotal role in her life.
Like so many people before her, UCSF entered Jensen's life when she needed it most. As a sophomore basketball player at the University of San Francisco in 2001, Jensen went into cardiac arrest one day during practice. She was rushed to UCSF where medical personnel saved her life.
"I'll always be thankful UCSF was there for me that day," Jensen said. "I may not have been here today without their excellent care."
Seventeen years later, Jensen was acknowledged for giving back to the university. She was honored for spearheading the Great People, Great Place initiative, which included, among other accomplishments, spreading the university's PRIDE values across the organization and launching recognize.ucsf.edu, a web-based recognition platform designed to make it easy for employees to say "thank you" to their colleagues. Recognize.ucsf.edu has generated more than 18,000 messages of gratitude since its launch last September.
Prior to championing Great People, Great Place, Jensen worked with faculty and staff to make UCSF a healthier place to work by launching UCSF's Tobacco Free and Healthy Beverage Initiatives and other wellness programs including the Step it Up challenges.
The road from emergency room patient to honored UCSF employee took some time.
"After my cardiac episode, I had to reinvent myself. I could no longer be a college athlete. I needed to find another avenue to define who I was."
While obtaining her first master's degree, UCSF was again there for Jensen. "I started working part-time for the UCSF Fitness Center as a personal trainer," she said. "It was there that I began to learn more about the university and I grew to love working here."
Jensen spent three years as the fitness manager at the Bakar Fitness & Recreation Center at UCSF Mission Bay before becoming the coordinator for the university's Wellness Program for six years. Now she serves as the executive director of Wellbeing Services & Operations.
"Leeane has big ideas and she also carries these visions to fruition," said Clare Shinnerl, associate vice chancellor of Campus Life Services and Jensen's supervisor. "She puts in a tremendous amount of hard work and energy to identify positive changes needed at UCSF and to advocate for their implementation across the enterprise. Without a doubt, she's deserving of the chancellor's recognition as her work has really made a difference in improving our lives at UCSF."
Laura Ishkanian, Wellness Program manager at UCSF, has worked for Jensen since 2014. "I've been lucky to learn from her over the past few years. She is persuasive, bold, and creative. Leeane is very dedicated to her work and to UCSF. She works tirelessly to make UCSF a great place to work and wholeheartedly believes in the mission of the organization."
Jensen said there is still more work to do. "Ultimately, I would like to see UCSF formally recognized as one of the best places to work in the Bay Area and eventually the nation," she said. "I want all employees to be proud of coming to work and to embrace our values and understand our mission. UCSF and the various teams I have worked with have been so good to me. I want to extend that experience to others."