Staff Appreciation Events Honor, Celebrate, Contributions of Frontline Employees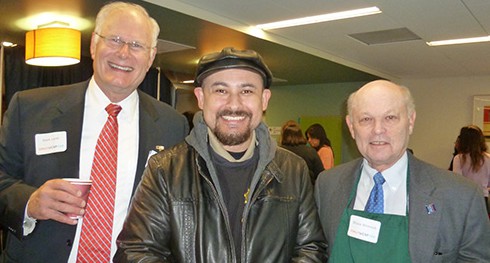 UCSF will continue its annual tradition of hosting the UCSF Chancellor's Staff Appreciation events starting Thursday, Dec. 1 at Mission Bay in the atrium at Genentech Hall. This year, there will be seven events, and all are expected to draw large crowds.
Bentley Stewart, Analyst in UCSF Patient Relations enjoys the events. "While the meal is great, the best part is to see people from multiple departments and leadership thanking people for serving the mission of the hospital and the organization," Stewart said.
The staff appreciation events are designed to recognize the dedication and service of staff and build on the university's core values of PRIDE: Professionalism, Respect, Integrity, Diversity and Excellence. "These values are reflected in the work we all do," said Chancellor Sam Hawgood, MBBS, in his 2016 State of the University address. "And we all share that passion and sense of purpose and promise that these values bestow."
"We're proud to continue this tradition at this time of year which recognizes the contributions of the many different people at UCSF who make it a great organization," said Dan Henroid, Director, Nutrition and Food Services, UCSF Medical Center, and co-chair of the Staff Appreciation Planning Committee.
This year's events will be held at seven different locations. Employees are invited to enjoy food, entertainment, and prizes. A photo booth will be available at select events. Medical center and campus leaders will be on hand to greet staff at each location. To view the full schedule, please visit the Arts & Events website.