SAW Program: A Brighter Future Through Learning
---
Published on September 14, 2017
---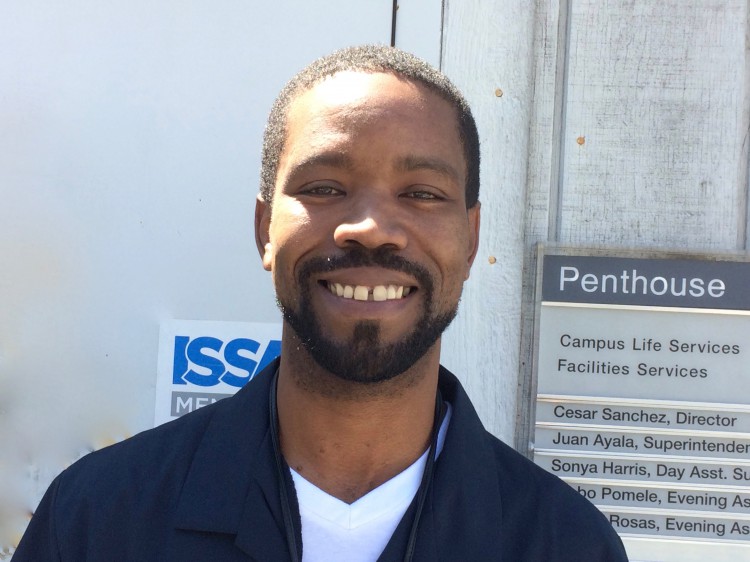 Darnell Chambers has worked as a custodian at UC San Francisco for the past four years and he's eager to advance in his career. That's why he's participating in the university's School at Work Program.
"I want to continue to work in the UC system but I understand I need new skills if I want to advance," he said. "The SAW program is helping me gain those skills."
School at Work is a six-month program where participants attend class each week for two hours and spend two hours outside class on homework. More than 9,000 employees nationwide have sharpened their skills and explored new positions within their organizations as part of the program.
The program has been in existence at UCSF for the past nine years. This is the fourth year that Kelly Anglim has been the SAW coach.
Field Trips Reinforce Classroom Learning
"A really fun aspect of the program is our field trips," she said. "Once students have discovered some areas of interest, I set up 'field trips' to meet with UCSF employees performing these jobs and tour their areas."
Chambers, who grew up in Vallejo and graduated from Vallejo High School, said he wants to eventually become a manager. "One of my favorite classes has been management communication," he said. "I learned grammar and writing and it gave me real-life scenarios to work through. I'm using what I learned in that class in my current job."
Anglim said the program is largely marketed to employees in the medical center but Joyce Hammel, director of diversity, inclusion & strategic organization development at Facilities Services, learned about the program and began marketing it to Facilities Services employees.
"This program provides our employees with an opportunity to learn new skills to help them advance in their careers at UCSF," she said.
The First Year for Facilities Services
Custodians Anton Goff, Ramiro Mendez, and James Taylor have joined Chambers in this year's program. "This is the first year Facilities Services has participated in the program," Hammel said. "The program has a proven track record of helping UCSF Health employees who want to develop their skills and pursue possible careers in the medical field."
Anglim said this year's class has four employees from the medical center along with the four employees from Facilities Services. "We've really enjoyed having the Facilities Services employees in the class. Honestly, they have really made the class engaging and interesting. They contribute to the class discussion and most importantly, make us all laugh as we learn."
Chambers said he would recommend the program to other employees. "It's been a very good experience for me. I'm learning new skills that I will use the rest of my life. It's going to give me the skills I need to advance my career."