Peasant Pies: Part of the UCSF Community
---
Published on March 28, 2017
---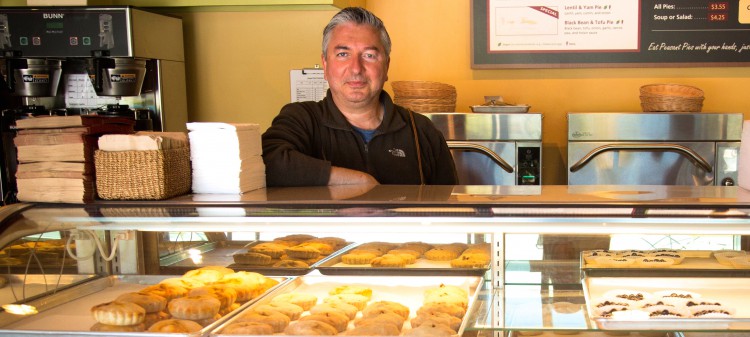 Ali Keshavarz, the owner of the popular Peasant Pies Café & Catering on UC San Francisco's Mission Bay campus, has a deep connection with the university that goes way beyond his business.
"When my daughter, Kiana, was born in 2004 she had a medical condition that required her to be in and out of the hospital for a while," Keshavarz said. "I developed a special relationship with the people at UCSF, the doctors, support staff, everyone I came into contact with. They literally saved my daughter's life. They gave us a gift."
The doctors that cared for Kiana still ask about her when they visit Keshavarz's restaurant. That's why Peasant Pies is more than just a restaurant for Keshavarz. It's part of a larger community.
"As my family and I were in and out of the hospital, I began to meet more and more people on campus at Parnassus. By then, I knew I wanted to be part of the UCSF community," Keshavarz said. He owned a store in the Noe Valley neighborhood and he inquired about opening a store on the Parnassus campus. "I talked with Jen Dowd (vendor services manager) but there were no openings at the time. She did, however, tell me about the plan for the new Mission Bay campus."
Dowd said the idea of a restaurant offering healthy, fast food, fit with the university's vision of a mix of different vendors at Mission Bay. "Peasant Pies was a perfect fit for the new Mission Bay development. Ali has supported our new campus from the beginning."
The Mission Bay Peasant Pies restaurant has been an integral part of the university community since it opened its doors in 2009. In 2015, when the university launched its Healthy Beverage Initiative eliminating the sale of sugary drinks on campus, there was some skepticism from campus restaurant owners. Keshavarz, however, embraced the idea. "My business is built around a healthy concept. My wife is a nutritionist and we worked together to design our menu. Peasant Pies is simply a healthy fast food café. The Healthy Beverage Initiative was a perfect fit for us."
That philosophy resonates with UCSF employees. "I have a customer who works at the Gladstone Institutes who comes in every day and orders a chicken and sweet potato pie with ice tea. I don't even have to ask him what he wants," Keshavarz said.
Keshavarz also owns Peasant Pies restaurants in Noe Valley and Inner Sunset neighborhoods and all three attract different clientele. "Our customers at Mission Bay are bound together by academics, scientific research, and a focus on health."
Peasant Pies is a Living Green approved food caterer and orders can be placed on America to Go. Keshavarz said the convenience of ordering online at America to Go has increased his business. "We have lots of orders from Mission Hall, Genentech and on the Parnassus campus. The America to Go website makes it seamless and easy to place an order. They've brought us a lot of business and make it easier for our community to order healthy options."