Creating a Supportive Culture at Work for Nursing Mothers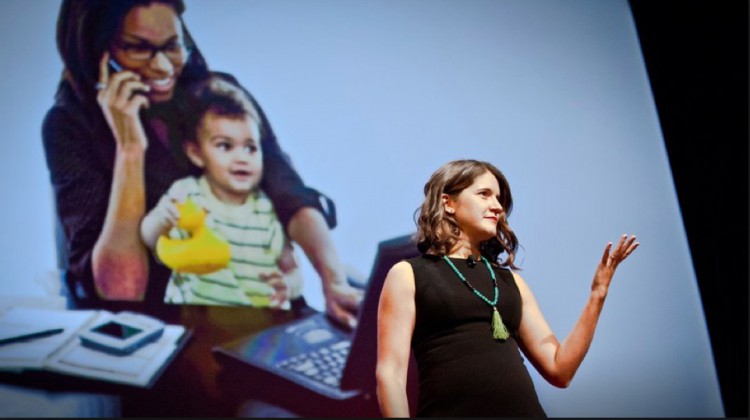 The visual images in the media and in print depicting a happy baby and mother blissfully sitting at a computer working away don't show the reality of what it's really like for women going back to work after having a baby.
For Jessica Shortall, activist and author of Work. Pump. Repeat, has a stark message for new working mothers and their babies: "Be grateful for whatever time you get to spend together. You are an inconvenience to the economy and to your employers."
Shortall will offer an alternative vision to this stark reality at a special lecture at UC San Francisco on Tuesday, May 16 to commemorate National Women's Health Week. The lecture is titled, Creating a Breastfeeding Supportive Culture at Work. It will be held at Byers Auditorium, Genentech Hall, from noon to 1:30 pm and will also be live streamed. It is sponsored by the UCSF National Center of Excellence in Women's Health, the Committee on the Status of Women, the Committee on Family Services, and Campus Life Services. To RSVP, please visit myfamily.ucsf.edu.
The first 50 attendees will receive a copy of Shortall's book, Work. Pump. Repeat.
"I'm going to speak about what it really takes to come back to work while breastfeeding," Shortall said. "The difficult realities for new parents, and what coworkers, managers, and human resource leaders need to know. I'll also discuss how coworkers can be allies to new parents and those breastfeeding and their partners."
Dr. Nerissa Ko, Professor of Neurology and Medical Director for the UCSF Neurointensive Care Units, said the decision to breast feed for moms returning to work should continue be a choice that is welcomed and supported.
"More often than not, the barriers to successful breast feeding at work take away this option for many workings moms, leaving many disappointed and discouraged," she said. "We can do more to create a supportive workplace environment that encourages successful transitions back to work for breastfeeding moms and their families."
The lecture will also highlight UCSF's progress and achievements in supporting new families and normalizing breastfeeding, such as increasing the number and quality of lactation rooms on campus.
Dr. Nancy Milliken, Director of the UCSF National Center of Excellence in Women's Health and Vice Dean of the School of Medicine, said successful breastfeeding by working women has enormous lifelong health benefits for babies and mothers as well as significant benefits for the workplace.
"It takes a village to support mothers' continuation of breastfeeding while working and Jessica Shortall is an important voice in promoting women's success," she said. "We welcome Ms. Shortall to UCSF and look forward to learning from her advocacy for workplace cultures that truly enhance the success of breastfeeding mothers."
Shortall's TED Talk on the case for paid parental leave has been viewed almost 1.5 million times. It has been featured on National Public Radio, TIME.com, Goop, and The Huffington Post. It was a TED.com "talk of the day" in 2015.
Her 2017 keynote at SXSW focused on building bridges in an uncommonly divided time, touching on paid family leave, legislation targeting LGBT and transgender people, and the time she snuck into Kyrgystan to buy a hat. It was widely acclaimed as one of the best speeches at the conference.
Shortall said her lecture at UCSF offers a very real, unvarnished perspective of what it's like for new mothers returning to work in America. "I'm not a clinician – I am a working parent who has been through the wringer, twice. I needed support that was ultra-practical, helped me be great at my job, understood the weird humor of doing something so awkward at work, and was not going to levy any judgment, no matter how long I breastfed my babies. I couldn't find that voice for myself, so I try to be that voice for other people."