CLS Employees Respond to Wildfire Smoke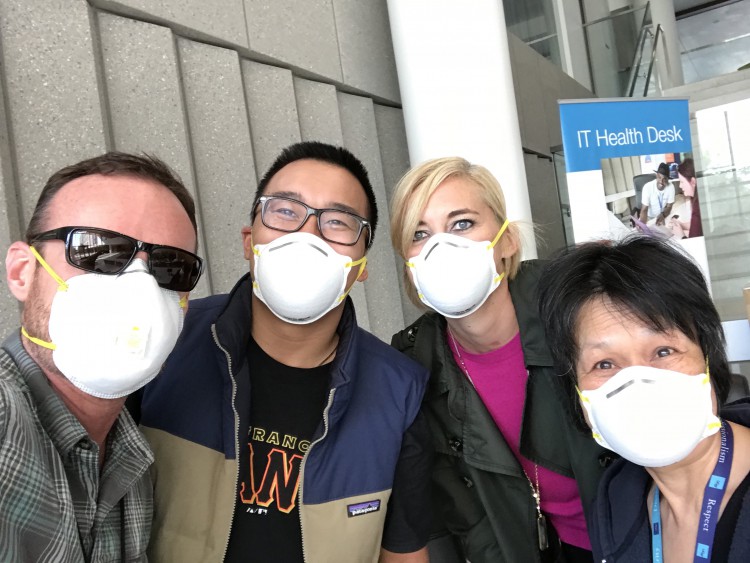 The North Bay wildfires kept the staff in UC San Francisco Campus Life Services busy last week.
To help their fellow UCSF coworkers, CLS employees distributed N95 respirator masks on Friday. Todd McGregor, Zachary Concepcion, Leeane Jensen and Sally Chan (photographed above from left to right) joined 31 others from CLS to go "above the call of duty" to help the UCSF community reduce the health impacts from the high levels of particle pollution.
"Staff across CLS pitched in all week to help solve a variety of issues associated with the Northern California wildfires," said Clare Shinnerl, associate vice chancellor for CLS. "One example of how quickly CLS responded to a call for help occurred when Supply Chain, under advise from experts in EH&S and Occupational Health, ordered an emergency supply of N95 masks and CLS offered to staff the distribution booths. The call for help was issued at 8:30pm on Thursday evening, and by 8am the next morning, staff across CLS had been trained on how to fit the masks and began working at two locations (Parnassus & Mission Bay). Thanks to everyone for going above the call of duty!"
Members of the UCSF community can stay informed about the latest developments, including important information and guidelines on volunteering, as well as how to handle requests that health professionals receive on UCSF's Northern California Wildfire Response page.