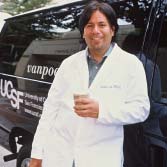 Campus Life Services
From transportation, housing, and business support to child care, entertainment, fitness, building operations and maintenance, and more—for 50 years the businesses of Campus Life Services have touched everyone, at every campus location. In ways great and small, we work hard to help make life better for the people who teach, study, work, and visit UC San Francisco.
Take a Break
July brings us ball games, free concerts, BBQs, and other fun ways to chill out. See the Arts & Events calendar and Fitness & Recreation's news page for upcoming events.
Now you can access the various online products and services available through Campus Life Services, via online transactions and downloadable forms.

Read more >