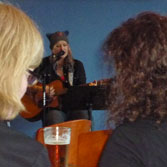 Arts & Events
Arts & Events is UC San Francisco's arts, events, and activities program and is a department within Campus Life Services. Arts & Events' mission is to enrich the UC San Francisco campus community through creative arts, performance, and cultural and social events that highlight diversity, foster social wellness, and celebrate the UCSF Community.
Keep the Fun Alive!
Every time you buy from a campus retailer, your dollars fund activities, programs, and entertainment to improve your quality of life at UCSF.
Get to know us
CLS Arts & Event's mission is to enrich the human spirit through community, recognition and celebration for everyone at UCSF.



We like to think of ourselves as the ambassadors of campus culture at UCSF. We are the only program of its kind in the UC System, providing music, arts, and other exciting events intended to help everyone on campus strike a balance between work or study and play.
Take a closer look at the role each of us plays in accomplishing our mission.

Jennifer Mannix
My name is Jennifer Mannix and I am the Arts and Events Manager. The Arts & Events Services team offers creative and fun programs for students, faculty, and staff. Our goal is to present an eclectic and diverse array of events that will offer something for everyone and strengthen our community at UCSF. I would enjoy hearing from you about any suggestions. In my free time, I enjoy the great outdoors, rock climbing, playing tennis, Indie movies, the Giants, and discovering new musical talent in the Bay Area. If you ever have any feedback or ideas that will help improve campus life be sure to email me at .(JavaScript must be enabled to view this email address).

Robert Kirkbride
I've worked at UCSF for seventeen years helping with all aspects of event production. Film screenings, concerts, galas, mixers, cultural celebrations, card-making, AIDS Walk, Block Party…. I've had the pleasure of helping produce some wonderful events for the UCSF community. I also edit the Arts & Events website, create fliers, coordinate the monthly newsletter, and help with administrative duties. Although, I am primarily based at the Mission Bay campus, you may see me helping with events at Mt. Zion, Parnassus, SFGH, Laurel Heights and Mission Center Building. I am not a full-time event programmer, but when I do program events it is usually for the Mission Bay campus. Currently, Arts & Events does not have enough funding to pay for a full-time event programmer at Mission Bay. I hope that will change in the future. If you would like to donate to Arts & Events click here. Feel free to email me with any feedback or ideas at .(JavaScript must be enabled to view this email address).

Joey Convento
I've been employed with UCSF for approximately 15 years. As a San Francisco Native, I definitely draw off the energy, rich cultural diversity, and creativity my hometown has to offer. As Arts & Event's Coordinator, I bring that same energy to create that work life balance we all need as staff, faculty and students. Creating a diverse menu of programs, such as UCSF family exclusive events, Bi-annual Black & White Gala as well as Martin Luther King and many other cultural celebrations — producing over 100 events a year! As an intricate part of Campus Life Services, our main purpose is to "Enrich the human spirit, quality of life, and community here at UCSF." In order to maintain our diverse quality programming, we are open to new programming/entertainment recommendations, ideas and we definitely value your comments. Please email me at .(JavaScript must be enabled to view this email address).

Pilar Deer
Music, culture, art of cooking, American heritage, and photography are key traits that help to describe the passionate and unique life of myself, Pilar. Music was a large part of my childhood. My parents always had music on while I growing up and that is how I grew to love and respect music as a passion and a lifestyle. As a devoted fan, I have traveled cross-country to feel the energy and devotion of live music played by bands that I love. I have attended many private concerts, festivals, and social events featuring some of my favorites. While traveling I have stayed in many old hotels and eaten in many long-established restaurants. To pass the time, I started to use my camera so I could capture my travels. I have since made a hobby of finding unique and cultured signs of the places I visit. One day I would like to create a sort of display book to exhibit my travels and photography skills. I have lived, worked, and played in San Francisco my entire life. Over the years I have built a strong social family who I can rely on for love, support and a down-right good time. I take pride in being a gracious host. I have thrown many parties and events over the years—themed gatherings, award nights and social dinners—for friends and family. I love throwing parties because it allows me to bring people together, and build a community with love. You can contact me at .(JavaScript must be enabled to view this email address).

Fe Cushere
My name is Fe Cushere and I have been with UCSF for 10 years. I started working in the UCSF University Store serving customer's needs including, but not limited to, cash handling, process daily reports, cash reconciliation, etc. As of August 2008 to present, I have been working in the department of Arts & Events as the Bear Hugs coordinator. As the Bear Hugs coordinator I process departmental recharges for the Bear Hugs orders in an efficient and accurate manner. My co-workers know me as the "BREAD LADY" because I bring bread to the office almost everyday. I also invented what my colleagues have come to know as "CODE GREEN" which means "FREE food is available" and they love me more when they receive the Code Green telephone calls from me.
Quick Links
News & Specials
The Events Podcast
Events covered in this month's podcast GIANTS TICKETS…
Read more >>
Gift Cards Available via Recharge
Gift Cards: Gift Cards are now available through the…
Read more >>
Last Minute Gear
Last Minute Gear Do you have a spontaneous camping…
Read more >>
Calendar
2016 SAN FRANCISCO GIANTS TICKETS - On Sale March 28th!
Campus Life Services Arts & Events will have a…
Read more >>
UCSF Staff Appreciation Events Are Held Throughout the Year!
Beginning December 2015, FY 2015-16, staff appreciation…
Read more >>