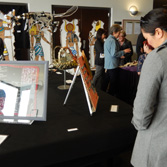 Arts & Events
Arts & Events is UC San Francisco's arts, events, and activities program and is a department within Campus Life Services. Arts & Events' mission is to enrich the UC San Francisco campus community through creative arts, performance, and cultural and social events that highlight diversity, foster social wellness, and celebrate the UCSF Community.
Keep the Fun Alive!
Every time you buy from a campus retailer, your dollars fund activities, programs, and entertainment to improve your quality of life at UCSF.
Quick Links
News & Specials
Keep the Fun Alive!
Buy a sandwich. Let the music play. Every time you…
Read more >>
Support Arts & Events: Donate Now!
Help us create community here at UCSF by donating to…
Read more >>
California Academy of Sciences Coloring Contest
UCSF Families with kids in the Campus Life Services…
Read more >>
Calendar
UCSF Golden State Warriors
Arts & Events has a limited amount of tickets available…
Read more >>
Giants Tickets SOLD OUT!
Campus Life Services Arts & Events has Giants tickets…
Read more >>