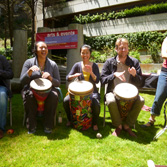 Arts & Events
Arts & Events is UC San Francisco's arts, events, and activities program and is a department within Campus Life Services. Arts & Events' mission is to enrich the UC San Francisco campus community through creative arts, performance, and cultural and social events that highlight diversity, foster social wellness, and celebrate the UCSF Community.
Keep the Fun Alive!
Every time you buy from a campus retailer, your dollars fund activities, programs, and entertainment to improve your quality of life at UCSF.
Quick Links
News & Specials
Arts & Events and One UCSF
Campus Life Services Arts & Events encourages the…
Read more >>
Everyday Errands Update
Dear Everyday Errands Customer, We are writing to inform…
Read more >>
Key Findings from our Arts & Events Survey
Thank you to everyone who participated in the Arts…
Read more >>
Calendar
UCSF Staff Appreciation Events Are Held Throughout the Year!
Beginning December 2014, FY 2014-15, staff appreciation…
Read more >>
The Chancellor's Concert Series Streaming Live and Archived
Campus Life Services Arts & Events proudly presents…
Read more >>